Squillion:
Mobile App Development

Company in USA
Embrace the future with Squillion, a trusted app development company in the USA. We are a team of seasoned professionals proficient in transforming business ideas into robust, high-performing, and user-centric mobile applications. 
Our expertise spans many cutting-edge technologies and frameworks, including Angular, React, Vue.js for frontend development, Node.js, Python, PHP, and many more technologies. Ready to redefine your business with digital innovation? 
The Imperative of
Mobile App Development
Mobile apps have become integral to our daily lives and the business landscape. With the global mobile app market projected to induce over $935 billion in revenue by 2023 through paid downloads and in-app advertising, the importance of mobile app development cannot be overstated. 
Mobile apps have made significant inroads into every industry imaginable. In healthcare, apps have made medical advice and health tracking accessible to everyone, improving patient care. In retail, apps have transformed the shopping experience, making it more personalized and convenient. Banking apps have made transactions and money management simpler and more secure in the finance industry. In education, learning apps have made it possible to access educational content from anywhere, revolutionizing the way we learn. 
For businesses, both large and small, mobile apps offer numerous benefits. They provide a direct channel to customers, improve engagement, and even open new revenue streams. 
Mobile app development is a critical investment for businesses aiming to stay competitive in today's digital landscape. Whether you're a startup looking to disrupt the market or an established business aiming to improve customer experience, a well-developed mobile app can be a game-changer.  
At Squillion, we understand this and offer exclusive mobile app development services to help your business succeed digitally. 
Mobile Application Development

Company in USA:
Empowering Enterprises, Startups, and SMEs
In the rapidly growing mobile app development industry landscape, Squillion is a beacon of empowerment, specifically catering to enterprises, SMEs, and startups across the USA.
With over 5.22 billion unique mobile users worldwide, we're in the business of turning aspirations into tangible achievements, serving as the driving force behind countless visionary entrepreneurs.
Squillions Premier Mobile
App Development Services in USA
As among the top mobile app development companies in the USA, Squillion is committed to delivering ingenious and scalable solutions that drive the growth of startups and enterprises. Our services are designed to propel your business to new heights, ensuring you stay ahead in the digital race. 
Why is Squillion Your Ideal

Mobile App Development

Company in USA?
Choosing Squillion as your mobile app development partner means choosing quality, innovation, and expertise. We are a team of dedicated developers proficient in various mobile technologies. We are committed to delivering top-notch mobile applications that align with your business necessities. Here's why we stand out: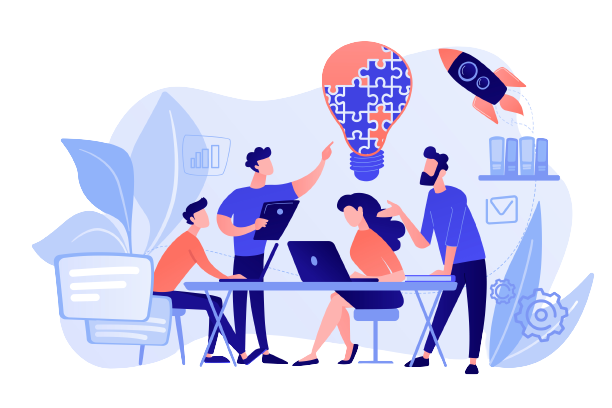 Our Portfolio

- A Testament to Our Excellence
Our portfolio showcases Squillion's commitment to quality and innovation in mobile app development. We've partnered with leading brands and startups across various sectors, delivering impactful projects. From job search platforms to social media and multinational restaurant apps, our work is a testament to our expertise. Explore our portfolio to see how we drive growth and success for our clients. 
FAQs for Mobile App Development Company in USA