Revolutionizing Businesses:

On Demand App Development

Company
In today's fast-paced world, on-demand services have become the standard. Squillion is at the forefront of this revolution, leveraging mobile technology to develop on-demand apps that cater to users' immediate needs.  
Our expertise spans various industries, including food delivery, taxi booking, home services, and healthcare.  
Are you ready to elevate your business with an on-demand app?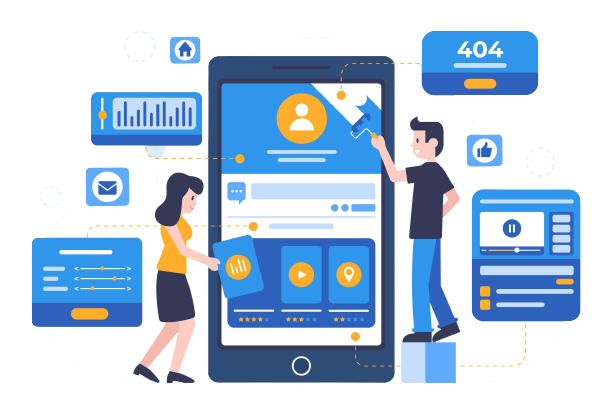 The Impact of

on demand App Development
Harvard Business Reports states that the on-demand economy is gaining more than 22.4 million consumers yearly, spending $57.6 billion. This demonstrates the significant impact and potential of on-demand app development in today's digital world. 
Remember the old days when catching a taxi meant frantically waving one down on the street or dialing a taxi service and waiting indefinitely? Then, on-demand ride-hailing apps entered the scene, and the rest, as they say, is history.  
Today, with just a few taps on our trusty smartphones, we can summon a ride that arrives right on our doorstep. This is the awe-inspiring power of on-demand app development. 
Similarly, on-demand food delivery apps have reshaped the culinary landscape. In contrast, on-demand accommodation booking apps have jolted the hospitality sector from its complacency. These on-demand apps have elevated our convenience and unfurled new avenues for businesses to explore. 
So, whether you're at the helm of a budding startup eager to make a lasting impression or a well-established enterprise striving to maintain its leading position, on-demand app development could be your key to success. After all, in an era driven by relentless pace, convenience is king! 
Tailored Solutions with

On Demand Service App Development
We understand that every business is unique, and so are its needs. That's why we offer tailored on demand app development solutions that align with your business goals.  
Whether you're a startup looking to disrupt the market or an established business aiming to digitize your operations, we have the right solution. Here is the trailer of some of the on-demand app solutions: 
Developing
On-Demand App Solutions

with Premier Features
Our team of on-demand app developers is adept at developing and integrating features that elevate your ordinary app to a top-tier app on various app stores. 
Sparking the
On-Demand


Revolution Across Various Industries
From traditional business models to real-time, hyper-personalized operations, businesses are adapting to meet the immediate needs of their users. As a leading on demand mobile app development company, we enable industries to mobilize their operations and succeed in the competitive on-demand space. 
Revolutionizing last-mile travel with real-time solutions that ensure efficient and convenient transportation. 
Redefining convenience with on-demand delivery services eliminates wait times and provides swift access to goods. 
Transforming the beauty industry by bringing on-demand services to users' fingertips, effortlessly combining beauty and convenience. 
Making healthcare accessible on-demand, connecting patients with medical services whenever and wherever they need them. 
Breaking free from time constraints, our on-demand video apps bring entertainment to users on their terms and schedules. 
Simplifying home services by offering on-demand solutions that save time and effort, promptly addressing repair and maintenance needs. 
Optimizing manufacturing and shipping operations through real-time, on-demand logistics solutions for seamless supply chain management. 

Squillion for On Demand App
Development Services
When you partner with Squillion for your on demand app development needs, you gain access to a winning combination of industry expertise, tailored solutions, and a proven track record.  
We take the time to truly understand your business, ensuring that our custom on-demand apps align perfectly with your goals. With over 2000+ successful projects, our experienced professionals bring unparalleled expertise to every development process.  
We prioritize your satisfaction and deliver high-quality, secure, scalable, on-demand apps that exceed expectations. Experience the Squillion difference and unlock the full potential of your on-demand business. 
At Squillion, we combine our technical expertise with our deep understanding of the on demand economy to deliver top-notch on-demand app development services.  
From Concept to Launch:
Our Path to
On-Demand App Development

Excellence
Our on-demand app development process is designed to deliver high-quality apps on time. Here's a sneak peek into our dynamic and customer-centric approach: 
FAQs For On Demand App Development