Empowering Medicare with
Healthcare App Development

Services
In an era where technology is reshaping industries, healthcare shouldn't be left behind. With Squillion Technology, we're leveraging the power of app development to make the care system more accessible, efficient, and patient-centric.  
We develop apps including necessary features like appointment scheduling, patient record maintenance, telemedicine services, and much more to give the utmost convenience to users.  
Ready to revolutionize healthcare and bring these benefits to the fingertips?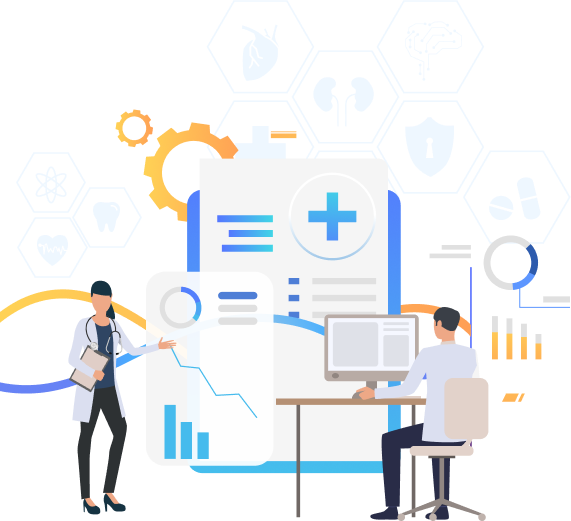 The Rising Importance of

Healthcare App Development
The demand for innovative digital solutions is rapidly growing in Medicare. The global healthcare industry is estimated to reach a staggering value of over $6 trillion by 2025, demonstrating the increasing demand for innovative digital solutions. 
The rise of telemedicine, remote patient monitoring, and the need for seamless healthcare experiences have made medical app development more crucial than ever before. 
Healthcare apps are no longer just tools; they have become platforms for engaging patients and fostering lasting relationships.  
By catering to the growing desire for seamless healthcare experiences, these apps provide patients with 24/7 access to explore medical information, book appointments, manage prescriptions, and even engage in virtual consultations. 
By leveraging the power of technology and embracing healthcare mobile application development, you can enhance your competitiveness and connect with patients in the digital realm, where they actively seek healthcare solutions. 
Healthcare Mobile App Development

Services: Powering Medical System
At Squillion, we offer a comprehensive range of healthcare app development services to address healthcare providers' diverse needs and enhance patient care delivery. 
With our proficiency in both native and hybrid app development, we create customized medical mobileapplications that streamline healthcare operations and empower healthcare professionals and patients alike. 
Feature-Packed
Healthcare Application Development

for Enhanced User Experience
When it comes to healthcare app development, providing an exceptional user experience is paramount. At Squillion, we specialize in creating feature-packed healthcare apps that streamline processes and prioritize user satisfaction.  
With a careful blend of functionality and intuitive design, our apps offer an enhanced user experience that sets them apart in the healthcare industry. Our healthcare apps are packed with features that enhance user experience and streamline healthcare processes: 
Our Expertise as a

Healthcare App Development

Company
At Squillion Technology, we specialize in creating healthcare apps that are not only functional but also compliant with healthcare regulations.
We're committed to delivering quality, security, and innovation in every app we develop. Here's a closer look at what we can bring to the table with our experience: 
HIPAA-Compliant Development
We specialize in developing healthcare apps that comply with HIPAA regulations, ensuring the highest data security and privacy standards.
EHR Integration
Our team has extensive experience integrating healthcare apps with Electronic Health Record (EHR) systems, enabling seamless access to patient records for improved care coordination.
Telemedicine Solutions
We design and develop telemedicine applications that facilitate remote consultations, virtual visits, and telemonitoring, bringing healthcare services to patients' homes.
Medical Wearable Integration
We have expertise in integrating medical wearables, such as smartwatches and fitness trackers, with healthcare apps for real-time health monitoring.
AI-Powered Healthcare Solutions
Leveraging artificial intelligence, we develop intelligent healthcare solutions that enable predictive analytics, personalized medicine, and improved clinical decision-making.
IoT-Enabled Healthcare Apps
We specialize in creating Internet of Things (IoT) enabled healthcare applications that connect medical devices and wearables, improving data collection and remote monitoring.
Health Data Analytics
Our expertise in health data analytics helps healthcare organizations derive valuable insights from large volumes of data, facilitating data-driven decision-making and population health management.
Third-Party System Integration
We seamlessly integrate healthcare apps with third-party systems, such as pharmacy management and electronic prescribing systems, streamlining workflows.
Regulatory Compliance
We ensure compliance with HIPAA, GDPR, and FDA guidelines, providing peace of mind to our clients.

Why Will We Be the Best Choice as Your

Healthcare Mobile App Development

Company?
Choosing Squillion means choosing quality, innovation, and expertise. We have a proven track record of delivering successful healthcare app solutions.  
Our team of experienced professionals ensures timely delivery and superior code quality. We've worked with startups, enterprises, and global brands, delivering over 2000 applications across various platforms and technologies.  
With us, you get the best of both worlds – creative design from our Los Angeles team and talented development from our team in India. Success is guaranteed with Squillion. 
Healthcare App Development

Process:
Delivering Excellence Every Step of the Way
At Squillion, we follow a systematic and client-centric approach to healthcare app development. Our process ensures that we deliver innovative and high-quality solutions that meet the unique requirements of healthcare providers.  
Drawing inspiration from industry best practices, we provide transparency, collaboration, and excellence throughout the development journey. 
Some Common FAQs About Our Healthcare App Development Services