Devising Gaming Marvels through Innovative
Game Apps Development
Transform your vision into a thrilling experience with Squillion Tech. As a leading mobile game app development company, we bring a unique blend of creativity, technology, and gaming expertise to deliver state-of-the-art mobile games that captivate users and scale your brand.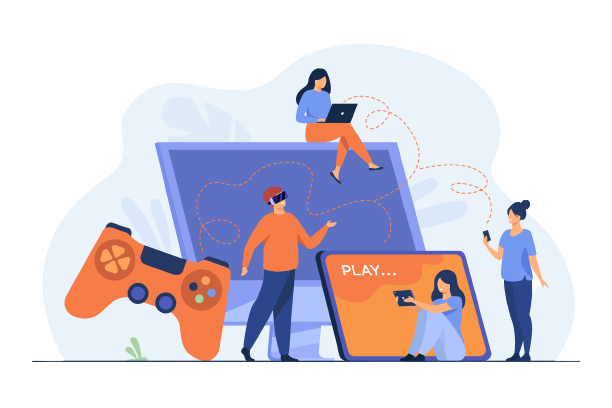 Entertainment on the Go:
Overview of
Mobile Game App Development
Mobile game app development revenue surpassed the global film industry in 2021, reaching over $90 billion. This highlights the immense potential for developers and businesses.  
With smartphones' popularity and demand for captivating performances, the need for high-quality mobile games is soaring. From integrating augmented reality (AR) and virtual reality (VR) to embracing the competitive world of eSports, the gaming landscape is rapidly transforming. 
Mobile game app development is a multifaceted process that involves various stages, including ideation, design, development, testing, and deployment. Developers utilize various coding languages, game engines, and development tools to create games that captivate audiences and provide spellbinding immersions.  

We Bring Your
Dreams

to Reality!
Did you know that mobile game app downloads reached a staggering 46+ billion in 2022? The power of gaming is no longer confined to mere entertainment. At Squillion Tech, we understand that mobile games today are tools for educating, creating awareness, and even enhancing e-commerce engagement.   
Our expert team is proficient in creating a wide array of game types, spanning from multiplayer to single-player, from strategy to educational, and from trivia to adventure games.  
We cater to your specific needs, offering dedicated game development services for various platforms like Android, iOS, or Facebook. With captivating narratives, engaging audio, and vivid 2D and 3D graphics, we bridge the gap between fantasy and reality, creating digital environments that captivate your audience. 
Squillion Tech offers a range of services that you can tap into: 
Android mobile game app development services.

 

iOS Mobile Game app development services.

 

Engagement with our skilled mobile game app developers.

 

Collaboration opportunities with our proficient mobile game app development company.

 
Out of the world
Experiences

with Stellar Services
In the rapidly growing industry, Squillion Tech stands out with its comprehensive range of mobile game app development services. Our expertise spans various genres and platforms, from casual games for iOS and Android to complex MMORPGs. 
From the palm of your hand to the vast expanse of the metaverse, we offer comprehensive solutions catering to the gaming industry's dynamic nature. 
Charting the New Era of
Mobile Gaming with Leading

Development Platforms
At Squillion Tech, we harness the benefits of cross-platform game development to architect robust games that guarantee scalability and seamless operations. Experience the thrill of versatile gaming software running smoothly across multiple platforms, offering a glitch-free gaming journey.
iOS Game App Development
Squillion Tech excels in iOS game development, spanning from iPads and iPhones to Apple Watches. Creating captivating games with top-notch graphics for all iOS devices, ensuring seamless performance.
Android Game Development
Our adept team specializes in Android game development, creating captivating games with varied themes. Our tailored solutions guarantee impeccable performance on all Android devices, resonating with a broad audience.
Cross-Platform Game App Development
Cross-platform game development is a testament to technological advancement, connecting players across different devices. Our cross-platform gaming solutions offer this connectivity, broadening the gaming thrill and reach.
Popular Categories of Mobile Games
Mobile gaming has evolved tremendously, offering a diverse range of genres to cater to every 
Player's taste. Here are some of the most popular categories: 
Why Choose Us As Your

Game Development

Company
As a premier game development company, Squillion, we deliver top-notch gaming solutions at competitive prices. Here's why we stand out as the ideal choice for your game development needs: 
The Squillion Approach to

Mobile Game Development
FAQs for the Mobile Game App Development