Squillion - Your Powerhouse for
EV Charging App Development
Welcome to Squillion, your trusted partner in the electrifying world of e-mobility. We're not just tech gurus but your allies in sparking a revolution in the EV charging landscape. Our tailor-made EV charging apps are more than just software; they're catalysts empowering businesses, turbocharging user experiences, and streamlining the charging process. Are you ready to electrify your mobility experience? Charge ahead with us!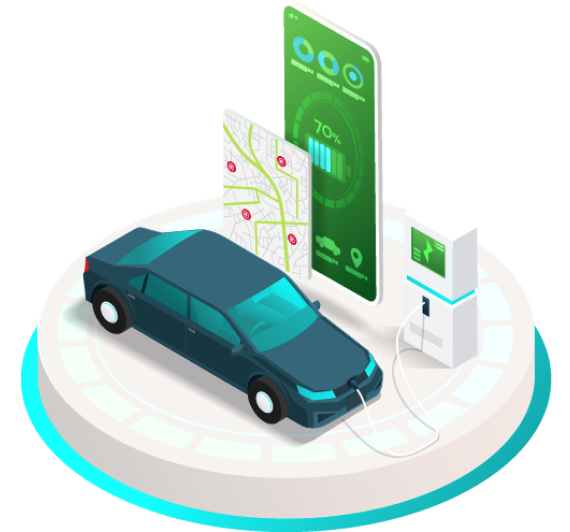 Electric Vehicle Charging App:


Powering the Future of Transportation
The Electric Vehicles market is on a steep upward trajectory, with projected revenues of US$70.13bn in 2023 and an expected CAGR of 18.17% from 2023 to 2028, culminating in a market volume of US$161.60bn by 2028. This rapid growth underscores the immense potential of the industry and the increasing importance of EV Charging App Development. 
The future of transportation is electric. As the global electric vehicle market grows, efficient and user-friendly EV charging solutions are more important than ever. This is where EV Charging App Development comes into play. 
Consider this scenario: You're driving your electric vehicle and realize you're running low on charge. In the past, you might have had to search manually for a charging station, wondering if it would be occupied or compatible with your vehicle. But with an EV Charging App, you can easily find the nearest charging station, check its availability and compatibility, and even reserve a charging slot in advance. 
But the potential of EV Charging Apps goes beyond these basic functionalities. With the integration of advanced technologies such as AI and IoT, these apps can offer personalized recommendations based on your charging habits, send predictive maintenance alerts for your EV, provide energy consumption analytics, and much more. 
For businesses in the e-vehicle industry, developing an EV Charging App can open up new avenues for customer engagement and revenue generation. It can enhance the service offering for EV charging station providers, increase brand loyalty among users, and provide valuable data insights to drive business decisions. 
In essence, EV Charging App Development is not just about creating a functional tool for charging electric vehicles. It's about leveraging technology to enhance the overall EV charging experience, making it more convenient, efficient, and user-friendly. It's about driving the e-mobility revolution forward. 
Driving E-Mobility Forward with
Comprehensive
Mobile App Solutions
In the fast-paced world of electric vehicles, Squillion is your trusted partner for cutting-edge mobile app solutions. We leverage our deep expertise in mobile app development to deliver a suite of services tailored to the unique needs of the e-vehicle industry: 
Empowering Your E-Vehicle Journey with Feature-Rich
EV Charging Apps
At Squillion, we believe in delivering solutions that meet and exceed expectations. Our EV charging apps are a testament to this belief, packed with many features designed to enhance user experience and streamline the charging process. While we offer a comprehensive suite of features tailored to your specific needs, here are some that set our apps apart: 
Harness the Power of Technology with
Squillion - Your Premier
EV Charging App Development

Company
At Squillion, we believe in the transformative power of technology. Our team of tech wizards is adept at leveraging cutting-edge technologies to create innovative solutions for the E-Vehicle industry. Our expertise spans across a broad spectrum of technologies: 
EV Charging App Development

Process
At Squillion, we follow a systematic and client-centric EV charging app development approach. Our process ensures that we deliver innovative and high-quality solutions that meet the unique requirements of our clients: