E-Commerce
App Development

Company
Ready to turbocharge your business with an e-commerce app? Squillion turns your dreams into reality! As a premier app development company, we blend tech and creativity to craft custom apps that embody your brand and engage your audience.
With us, you'll not just launch an app; you'll ignite a digital revolution for your business. So, are you ready to ride the wave of digital transformation? Let's get started today!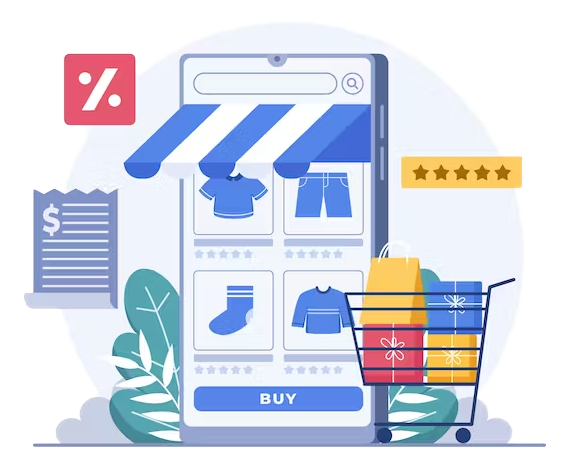 The Paramount Role of an

E-Commerce App Development
In 2022, the size of the global e-commerce market amounted to US$ 16.6 trillion. Industry projections anticipate a substantial growth trajectory, with the market expected to reach US$ 70.9 trillion by 2028.
This denotes a compound annual growth rate (CAGR) of 27.38% during the period spanning 2022 to 2028, as predicted by the authoritative source.
In the digital age, an e-commerce app is more than a selling tool—it's a platform for engaging customers and fostering relationships. Catering to consumers' desire for effortless shopping, these apps provide 24/7 access to explore products and place orders.
Ane-commerce app development company plays a crucial role here. Their job goes beyond coding. They create a digital solution aligned with your business objectives and customer needs, reflecting your brand's identity.
If you haven't considered e-commerce app development, now is the time. It's about staying competitive and reaching customers where they spend time – online.

Empowering Businesses with

e-commerce Mobile App Development

Solutions
With Squillion, your e-commerce application development journey turns into an exciting adventure! We're not just tech nerds; we're your companions who listen, understand, and translate your business needs into a stunning app that your customers will love​​.   
We create digital masterpieces that function seamlessly and resonate with your audience.  
Our process? It's as transparent as it gets. We walk you through every step, from conceptualization to launch, keeping you in the loop with regular updates and valuable advice.  
But But we don't stop there. We ensure your app is feature-packed, fast, and a delight to use. And the cherry on top? We provide ongoing support and maintenance, constantly optimizing your app and keeping it fresh with the latest updates and features​​.   
So why wait? Let's create, collaborate, and conquer the e-commerce world with a tailor-made e-commerce app that puts your business in the spotlight.  
Squillion

Services Powering E-Commerce Innovation
At Squillion, we offer various e-commerce app development services
to cater to your diverse needs. These include:
Types of Custom
E-commerce


Apps we Develop
We cater to a wide span of industries and develop various types of e-commerce apps. These include: 
Retail E-commerce Apps
Our team crafts cutting-edge retail e-commerce apps that empower businesses to showcase their products visually appealingly. With seamless navigation and secure online transactions, these apps enhance the overall shopping experience for customers.
Marketplace Apps
We excel in creating robust marketplace apps that connect sellers and consumers on a single platform. Our comprehensive solutions facilitate smooth interactions, reliable product listings, and secure transactions, providing a seamless experience for sellers and buyers.
B2B E-commerce Apps
Our goal is to streamline the sales process and enhance business relationships when developing B2B e-commerce apps. These apps enable seamless business transactions, offering bulk ordering, personalized pricing, and streamlined inventory management.
Auction Apps
Our auction apps provide an engaging platform for users to bid on products. With real-time bidding, notifications, and secure payment integration, these apps create a thrilling auction experience while ensuring a secure and fair environment for all participants.
Booking Apps
We develop efficient booking apps for businesses in the hospitality and service industry, such as hotels, restaurants, and salons. These apps allow customers to easily schedule appointments, make reservations, and access additional services, enhancing convenience and customer satisfaction.
Aggregator Apps
Our expertise extends to building aggregator apps that consolidate information from multiple sources into a unified interface. These apps provide users with a seamless browsing experience, presenting a comprehensive collection of products, services, or information in a user-friendly format.
Building Customer Loyalty:
Integrated Features That Enhance Your
App's Value
We go beyond ordinary e-commerce mobile app development services. Our integrated features empower your e-commerce app to deliver unmatched customer experiences, foster loyalty, and drive exceptional business growth. Here are some key features we offer: 
Geo-Targeted Store Finder
Connect customers to your physical stores effortlessly, no matter where they are. Our advanced store locator feature enables seamless navigation, driving traffic from the web to your stores and vice versa. 
Make customer support just a tap away. Our easy-access click-to-call button lets customers connect with your sales or customer service team instantly, ensuring their queries are resolved promptly. 
Intelligent Form Autofill
Streamline the user experience with intelligent form autofill. Our app intelligently pre-populates forms with context-specific inputs, saving time and ensuring accurate data transfer from registration to checkout. 
Maximize sales with strategic product placement and enticing buy buttons. Our design experts skillfully position popular products and recently viewed items, capturing user attention and driving quick sales. 
Seamless Zooming Experience
Let users explore products in detail with seamless zooming capabilities. Through familiar mobile interactions like swiping, pinching, and double-tapping, we ensure a captivating and immersive shopping experience. 
Click and Collect Convenience
Offer the ultimate convenience with our click-and-collect feature. Users can effortlessly collect low-inventory items offline from their nearest store, choosing the click-and-collect option for a seamless shopping journey. 
Personalized Loyalty Programs
Nurture customer loyalty through personalized loyalty programs. Our app tracks loyal customers and frequent visitors, rewarding them with timely coupons and exclusive perks to enhance engagement and retention. 
Versatile Payment Gateway Integration
Cater to diverse customer preferences with our extensive range of payment gateways. Our app supports various secure and hassle-free payment options, Whether cash on delivery, Paytm, card payments, or online banking.
Regarding e-commerce app development, Squillion is the trusted choice for businesses worldwide. Here's why:
Explore the Power-packed Panels of
Our Feature-Rich
E-Commerce Application
With our feature-rich e-commerce application panels, you can streamline operations, deliver exceptional user experiences, and easily drive business growth. Experience the power of these unique panels and unlock the full potential of your e-commerce venture. 
Our customer app panel offers an exceptional user experience with a range of interesting features: 
Seamlessly register and log in with direct social media integration, ensuring a hassle-free onboarding process. 
Simplify the login and sharing process by integrating social media functionality into your app. 
Enhance user convenience with advanced product search functionality, allowing users to easily find products based on price, category, offers, promotions, and more filters. 
Real-Time Shipment Tracking
Keep users informed with real-time shipment tracking and notifications, allowing them to track orders and stay updated on the delivery status. 
Multiple Payment Gateways
Provide users with secure payment options, including debit cards, credit cards, net banking, and other popular payment apps. 
4Shipping Details Integration
Integrate top shipping providers like USPS, UPS, FedEx, and Australian Post to offer real-time tracking of product shipments. 
Keep users engaged and informed with timely notifications about order updates, new offers, promotions, and other relevant information. 
Enable users to share their feedback and rate products, allowing you to gather valuable insights and improve your offerings. 
Our comprehensive admin panel empowers you with the tools needed to manage your online e-commerce store efficiently: 
Simplified Inventory Management
Keep your inventory organized and up-to-date with an intuitive interface, allowing you to seamlessly fetch inventory from various third-party databases. 
Streamline product management with an intuitive interface for adding photos, descriptions, prices, and more. Easily manage categories to ensure your products are showcased effectively. 
Stay informed with real-time notifications for placed orders, inventory updates, and payments, optimizing order fulfillment and ensuring timely deliveries. 
Gain valuable insights into sales, orders, and delivery performance with AI-powered analytic tools. Generate customized reports to guide your sales, marketing, operations, and finance strategies. 
Maintain control over user access and permissions by assigning roles such as manager, editor, or co-admin. Restrict or provide access to different parts of the app as needed. 
Promotions & Rewards Management
Create and manage offers and discounts for your e-commerce app, allowing users to apply promo codes and enjoy special rewards while making purchases. 
Our vendor panel simplifies order management and offers efficient control over product catalogs and vendor membership: 
Track and manage orders seamlessly with a user-friendly vendor panel dashboard, ensuring efficient order processing and customer satisfaction. 
Effectively manage product catalogs, selecting featured products and organizing them into categories to attract the right target audience and drive more sales. 
Allow vendors to easily view and select ideal membership plans, with the ability to renew memberships from the admin panel. Store and access important information like product limits, commission fees, and categories. 
Manage Delivery Locations
Enable vendors to set their delivery locations, ensuring that customers see nearby vendors and reducing frustration caused by unavailable products. 
Provide vendors with comprehensive transaction details for each order, enabling them to manage commission invoices and track their earnings on your marketplace. 
Simplify bulk product uploads with our user-friendly interface, allowing vendors to upload product pictures and edit information in real-time seamlessly. 
Ecommerce
App Development


Process we Follow?
At Squillion, we take pride in being a leading e-commerce application development company dedicated to crafting unique mobile applications. 
When it comes to e-commerce app development, we follow a strategic and systematic approach encompassing the following key steps: 
FAQs for the Ecommerce app Development