Powering Progress with
SaaS Application

Development
In the digital era, businesses are rapidly adopting Software as a Service (SaaS) solutions for their operational needs. At Squillion, we specialize in developing robust, scalable, and secure SaaS applications catering to diverse industries. 
Our solutions are designed to streamline processes, enhance productivity, and drive business growth. 
Ready to transform your business with our SaaS app development?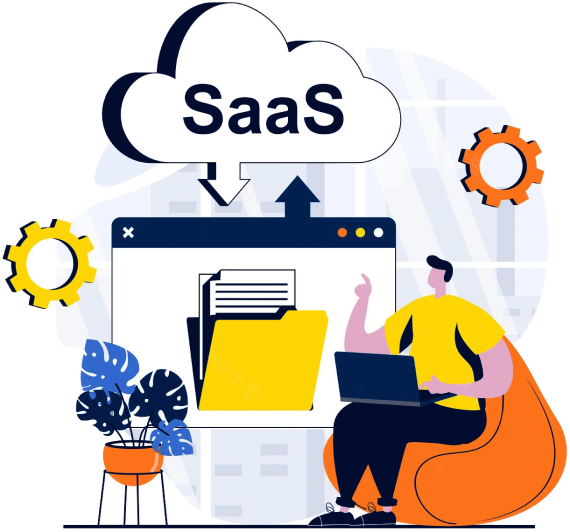 The Exploding Significance of

SaaS App Development
As per a report by Fortune Business Insights, the global SaaS market is poised to skyrocket to an impressive $307.3 billion by 2026. This stratospheric surge is a testament to the growing reliance on cloud-based solutions across many industries, including healthcare, education, retail, and finance. 
SaaS solutions are a game-changer, offering a cost-effective, scalable, and easily accessible alternative for businesses of all sizes. They eliminate the need for hardware procurement, licensing hassles, grueling installations, and ongoing support woes. With SaaS, enterprises can effortlessly tap into top-notch applications through the power of the Internet. 
SaaS applications transform operations in the healthcare sector, enabling streamlined patient scheduling, electronic health records management, telemedicine, and more. The world of education is just a little behind, with virtual learning, student information systems, and school administration being revolutionized thanks to SaaS. Retail enterprises harness SaaS solutions to bolster e-commerce initiatives, customer relationship management, and inventory management. Meanwhile, the finance industry is leveraging SaaS applications for unparalleled payment processing capabilities, robust risk management tools, and precise financial planning. 
At Squillion, we recognize the transformative potential of SaaS. Our team of seasoned developers boasts a mastery of cutting-edge technologies, enabling us to craft tailor-made SaaS platforms that are secure, scalable, and user-friendly.  
Our mission is to catapult customer engagement and propel revenue growth by delivering SaaS solutions that seamlessly align with your business goals and cater specifically to your unique needs. 
SaaS Application Development

Services:
Powering the Digital Transformation
At Squillion, we offer a comprehensive range of SaaS app development services to meet the diverse
needs of businesses. Here's a closer look at the services we offer: 
Feature-Packed
SaaS Application Development

for Enhanced User Experience
At Squillion, we believe in delivering SaaS solutions that offer an exceptional user experience. Our SaaS apps are packed with features that enhance user experience and streamline business processes

Squillion: Your Perfectly Suited

SaaS Application Development

Company
Regarding SaaS applications, Squillion is the unrivaled expert who understands the immense potential hold for businesses. We are fully committed to assisting companies in harnessing the transformative power of SaaS applications.  
With a seasoned team of professionals who possess a unique combination of technical prowess and industry insights, we guarantee the delivery of functional SaaS solutions and solutions that drive business growth. 
Opting for Squillion Technology as your SaaS application development company means selecting a partner devoted to your triumph.   

In addition to these remarkable qualities, we boast extensive experience in SaaS application development, collaborating with various industries and successfully delivering outstanding SaaS solutions.  
Our specialization lies in crafting SaaS applications that excel in functionality and adhere to industry regulations. We are fully committed to providing impeccable quality, unmatched security, and groundbreaking innovation in every app we develop. Our coding practices align with industry standards, ensuring the utmost security and privacy of sensitive data. 
At Squillion Technology, we construct success stories, not simply create apps. Entrust us with the extraordinary task of propelling your business towards unparalleled success. We are ready and eager to join you on this remarkable journey. 
SaaS App Development

Process at Squillion
At Squillion, we follow a systematic and client-centric approach to SaaS app development. Our process ensures that we deliver innovative and high-quality solutions that meet the unique requirements of businesses. 
FAQs For SaaS Application Development